specialists in looking after small businesses like yours
offering you a full range of accounting and taxation services
a free initial consultation and no obligation quotation of fees
a tailored service to suit your business
At Certax we believe in offering a personal and friendly service to you, our client, tailored to your needs as a business owner and an individual.
We endeavour to cut through the accounting and taxation jargon so you can understand your accounts and your tax bill and feel confident enough to ask questions about them. To find out more about how we can help your business please contact us. | more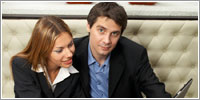 The services we can offer your business are many and varied depending on your needs.
Our website is one of the tools we use to communicate with you, our clients, by uploading factsheets and news articles on current topics, links to third party organisations so you can find out how to pay your tax bill, what free training is on offer and where to go for advise on funding and grants.
Plus if you're not sure when you need to file your accounts or tax return by you can use our dates and deadlines tables to help you work it out.


| | |
| --- | --- |
| | 22.03.10 · Pre Budget part 2 · And here's details of tax rates and allowances announced in the November 2009 pre budget report. Read more... |
| | 22.03.10 · Pre Budget · The UK Government will announce their fianl pre-election budget on the 24th March. In advance of the budget here's a reminder of the details from the November 2009 pre-budget an... Read more... |
| | 15.03.10 · VAT returns online · Major changes to the submission of VAT return to HMRC come into force in 2010 and many businesses will be required to submit their VAT returns online rather than by paper return... Read more... |
| | 24.03.09 · FREE Personal Tax Organiser · This is your FREE Personal Tax Organiser for the tax year to 5 April 2009. Use it as your tax folder and follow the instructions on the inside of the front page. Read more... |
| | 19.03.09 · To lease or not to lease? · Times are tough for businesses and reducing the tax bill on motoring expenditure is vital for companies to stay competitive. Read more... |